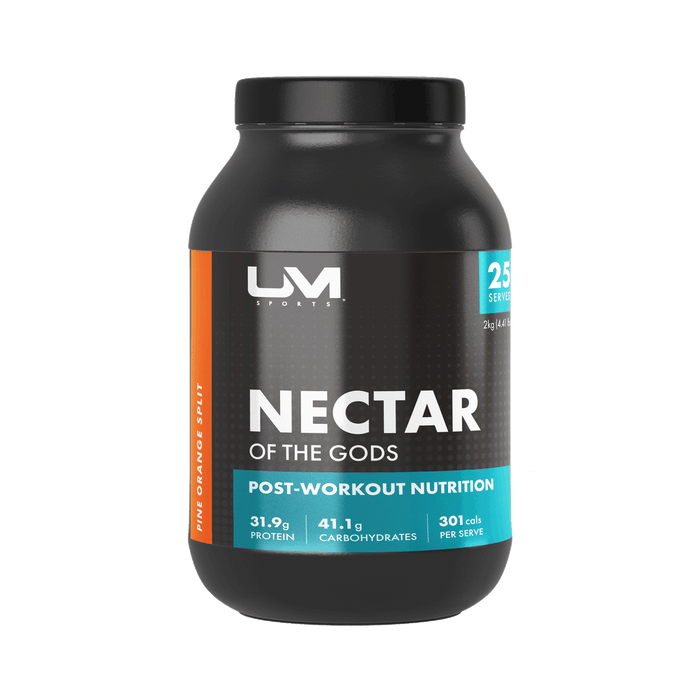 Nectar Of The Gods Post Workout Nutrition by UM Sports
Save

8

%
Save

8

%
Original price
$80.82
-
Original price
$80.82
Next Gen Post-Workout Nutrition
Looking for an effective post-workout training supplement that tastes amazing and is good for you? Look no further than UM Sports Nectar of the Gods. This innovative sports recovery formula is designed to optimise your overall dietary intake and energy requirements, with a combination of fast-absorbing proteins and short and long-chain sugars.

In addition to its powerful nutritional profile, Nectar also contains added BCAAs and L-Glutamine, two essential ingredients for supporting muscle growth and recovery. Whether you're looking to recover from a gruelling gym workout or an endurance training routine, Nectar is the perfect way to replenish your body's energy stores and aid in muscle repair.

And the best part? Nectar tastes great too, so you'll actually enjoy drinking it! Whether you use it as a post-training drink, a meal replacement, or a protein boost in-between meals, UM Sports Nectar of the Gods is the ideal choice for any Australian athlete looking to enhance their sports nutrition regimen. So why wait? Partner with Nectar today and experience the benefits for yourself!
Consuming adequate protein throughout the day is recommended to support your daily training routine. Try pairing our Platinum Blend with Nectar, which contains a unique blend of fast and slow-release protein to assist with dietary protein requirements.
Features and benefits

Contains precise fast-absorbing proteins and short and long-chain sugars for muscle repair and glycogen replenishment.

Enhanced with Branched Chain Amino Acids (BCAAs) for optimal muscle growth and recovery support.

Mixes like any regular whey blend, but is formulated for rapid absorption.

Contains electrolytes, various minerals, and nutrients

Gluten-free and contains natural sweeteners.
Who is Nectar of the Gods for?
Nectar has been formulated with the endurance individual in mind but is also perfect for individuals looking to maximise their post-training routine.
If you're looking to rapidly re-fuel after a long exercise session or endurance event, while optimising muscle recovery, Nectar of the Gods is for you!
Ingredients
Whey Protein Isolate (Milk, Soy), Caster Sugar, Dextrose Monohydrate, Maltodextrin, Amino Blend (L-Glutamine, L-Leucine, L-Isoleucine, L-Valine, L-Lysine HCL, Taurine, Acetyl L-Carnitine), Food Acid (Citric Acid), Flavours, Vitamin C (as ascorbic acid), Sodium Citrate, Calcium Carbonate, Colours (100, 162), Vitamin B6 (as Pyridoxine Hydrochloride), Ferrous Fumarate.

Contains Milk, Soy. May contain egg due to the product being manufactured on equipment that produces products containing this aller
Directions for use
Mix 80 g (2 Scoops) with 400 mL of water or milk of choice in a shaker cup or blender. Consume daily to obtain your required protein intake. Best times for use are between meals or after training.
DAILY CONSUMPTION: Do not exceed 1 servings per day.
FORMULATED SUPPLEMENTARY SPORTS FOOD
This product is not a sole source of nutrition and should be consumed in conjunction with a nutritious diet and with an appropriate physical training or exercise program.
Not suitable for children under 15 years of age, or pregnant women and should only be used under medical or dietetic supervision.