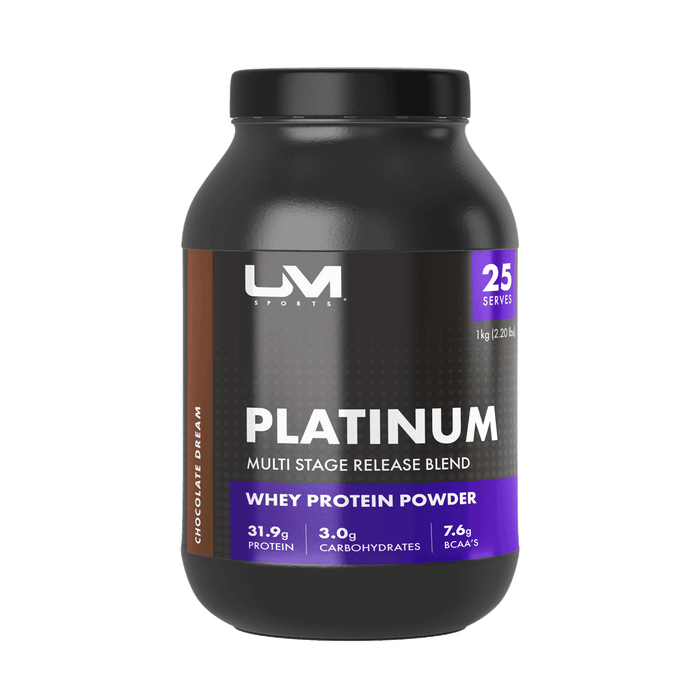 Platinum Multi-stage Release Whey Blend by UM Sports
Save up to

21

%
Save

24

%
Original price
$89.95
-
Original price
$134.95
Step Aside Gold Standard, Introducing Platinum.
Looking for the best whey blend supplement in Australia? Look no further than UM Sports Platinum Blend, a premium sports supplement that's the result of 20 years of research and development by Australian sports nutrition experts.

Crafted with a meticulous blend of ultra-filtered whey isolate (WPI), ultra-filtered whey concentrate (WPC), and Casein, UM Sports Platinum Blend delivers a potent combination of fast and slow-release proteins to support muscle growth and maintenance throughout the day and night.

But UM Sports didn't just rely on science to develop this exceptional product. They also gathered input from professional athletes and food science experts to create a formula that would maintain optimal levels of amino acids in the bloodstream across all stages of exercise, training, and daily physical activity.

So if you're looking for a supplement loaded with proteins that can help you achieve your fitness goals, look no further than UM Sports Platinum Blend - One of the best supplement blends to hit the Australian market.

Ultra-Filtered WPI: Provides a source of rapidly absorbing amino acids.
Ultra-Filtered WPC: Easily digestible, high in branched-chain amino acids.
Casein: Slow-absorbing proteins, allowing for a delayed release of amino acids.

Features and benefits

Crafted in a precise blend of fast and slow-release proteins including isolate, concentrate and casein to support recovery day and night.


Contains Ion Exchange Isolate, a pure-form protein with an exceptional amino acid profile designed for rapid absorption to optimise muscle recovery.

Contains Ultra Pure Concentrate, an easily digestible form of whey protein that is naturally high in amino acids to help meet daily protein intake needs.

Formulated with Casein, a slow absorbing protein, allowing for a delayed release of amino acids into the bloodstream for optimal muscle repair.

Gluten-Free and contains natural sweeteners.

Formulated with quality grass-fed whey protein that mixes instantly.

Low in sugars.
Who is Platinum for?
Platinum is perfect for the whey protein beginner, or someone looking for an all-rounded protein powder to support recovery and protein intake needs throughout the day and night.
With it's unique Multi-stage release blend, Platinum is perfect for anyone looking for a protein for snacking, post-workout or just overall creamy delicious protein powder.
Directions for use
Mix 40 g (1 Scoop) with 200-250 mL of water or milk of choice in a shaker cup or blender. Use before, during and after exercise or before bed.
DAILY CONSUMPTION: Do not exceed 1 servings per day.
FORMULATED SUPPLEMENTARY SPORTS FOOD
This product is not a sole source of nutrition and should be consumed in conjunction with a nutritious diet and with an appropriate physical training or exercise program.
Not suitable for children under 15 years of age, or pregnant women and should only be used under medical or dietetic supervision.