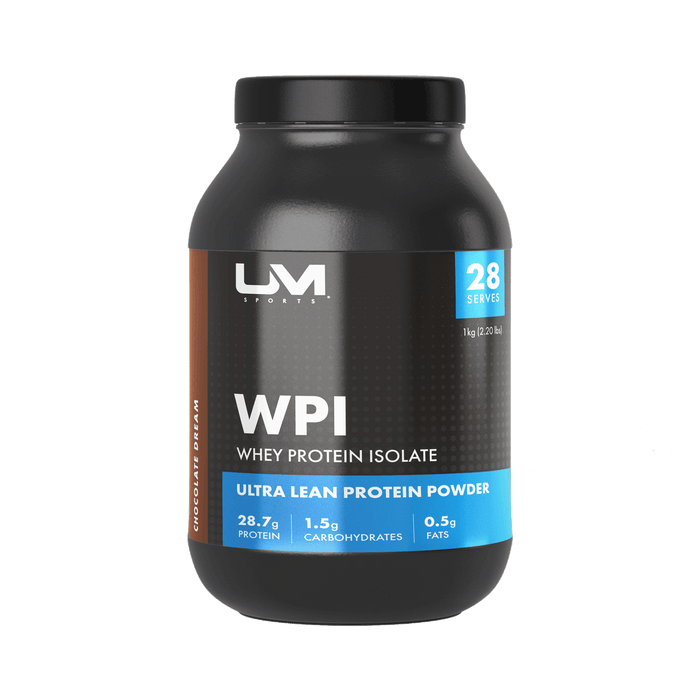 100% Whey Protein Isolate (WPI) by UM Sports
Save

10

%
Save

10

%
Original price
$67.34
-
Original price
$67.34
The Leanest and Cleanest Isolate On The Market
Looking for the leanest Whey Isolate on the Market? Look no further than UM Sports WPI, a premium sports supplement that offers all the benefits of a 100% Pure and Clean Whey Isolate formula.

This Australian sports nutrition product contains a high percentage of proteins and an extremely low carbohydrate-to-fat ratio, making it perfect for anyone with specific dietary needs. Plus, WPI is known for its super-fast absorption and a high source of Branched Chain Amino Acids (BCAA's), making it an ideal post-workout companion for those looking to support muscle growth and recovery.

With UM Sports WPI, you can rest assured that you're getting your daily dose of protein that is ultra-filtered and low in lactose, making it suitable for those with dairy sensitivities. This lean source of protein is perfect for individuals looking to meet their daily intake needs or pair it with any calorie-conscious dieting program or exercise routine.

So if you're looking for the best sports supplements Australia has to offer, consider UM Sports WPI - the ultimate whey isolate supplement formulated for your fitness and calorie goals.
Features and benefits

Formulated with quality ingredients (Certified 100% NZ Grass-fed Whey).
Whey sourced from the world's largest and most renowned Milk Co-op (Fonterra Farms).
100% Whey Isolate (WPI) that contains a high source of Branched Chain Amino Acids (BCAAs) for optimal recovery.
Low in Lactose, perfect for individuals who may be more sensitive to standard dairy-based protein powders.

Ultra Lean, each scoop of WPI provides 28.5g of protein in an ultra-low 130cal serve.
Instant mixing.
Zero sugar pure and clean.
Gluten-free and contains natural sweeteners.
Who is WPI for?
WPI is ideal for individuals looking for an incredibly lean source of protein to meet their daily protein intake needs, or to pair with any calorie-conscious diet program or exercise routine.
WPI is also the perfect post-workout supplement if you're looking for a protein powder to maximise results in the gym.
Directions for use
Mix 35 g (1 Scoop) with 200-300 mL cold water or milk of choice in a shaker cup or blender. Take 1-2 times daily to obtain your required protein intake. Best times for use are midway between meals, after training and before bed. 
Ingredients
Whey Protein Isolate (Milk, Soy), Flavours, Vegetable Gum (Guar Gum), Sweetener (Stevia). (Based on Vanilla).
DAILY CONSUMPTION: Do not exceed 1-2 servings per day.
FORMULATED SUPPLEMENTARY SPORTS FOOD
This product is not a sole source of nutrition and should be consumed in conjunction with a nutritious diet and with an appropriate physical training or exercise program.
Not suitable for children under 15 years of age, or pregnant women and should only be used under medical or dietetic supervision.